Best Time to Visit Norway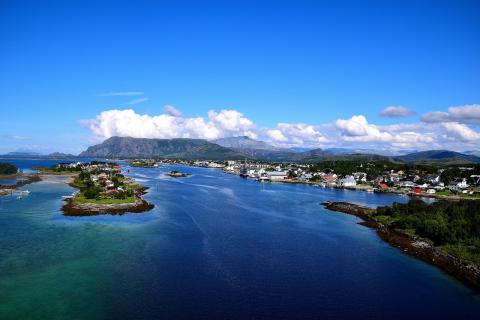 The territory of the country is stretched northwards and narrow. Such configuration causes variety of weather condition. Southern and south-western portions are falling under influence of the Gulf Stream and North Atlantic Current hence having moderate maritime climate. Winters there are cold with temperature averages slightly below freezing and summers are cool.
Central regions with moderate continental climate have long winters that last for 5 month and short cool summers. Northernmost part of Norway lies in the zone of subarctic climate with winter averages around -20 °C (-4 °F) and autumn like weather at summer.
Season and Low Season
Contents: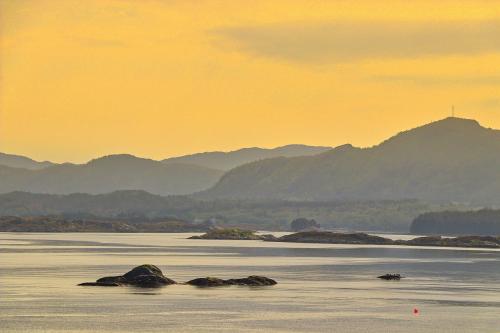 There are plenty of activities in Norway: ecotourism, skiing, tours n fjords, fishing, watching Polar lights and more. So best time to visit the country is rather depend on preferred type of entertainment than on weather.
Time between May and September is the warmest and the best to visit natural and cultural sights as well as for yachting or fishing. Except fishing season spans from June to September and requires license. At warm season temperature ranges are vary in different regions. In southern part there is 20-22 °C (71-75 °F) while north is colder with averages of 13-15 °C (55-59 °F). Nights in Norway are cold. After sunset temperature drops to 6 °C or even lower depending on region. In addition summer is the rainiest season and again annual amount of precipitation varies from 500-600 mm (20-24") in inland central portion to over 2000 (79") mm in some of coastal areas.
Skiing season in Norway spans from early autumn to late spring. Winter daytime averages in Lillehammer (biggest skiing resort of Norway) are around -5 °C (23 °F) which is perfect for skiing. Yet in northern lands winter is freezing cold, dark and severe. But it provides an opportunity to spectate magnificent Northern Lights. And developed infrastructure of the country promotes activities of visitors at any time.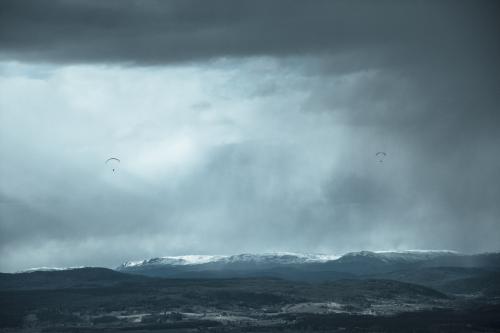 At offseason time Norway is damp and cold. But some independent travelers choose to visit the country when it is not cold enough for skiing and already too cold for other outdoor activities. Usually it is time between middle of October and early December with daytime temperature of 10 °C (50 °F) to 0 °C (32 °F) depending on region.
Between April and late May weather is similar but bit drier. Either way those parts of a year are not as popular as heists of seasons. On the other hand decreased tourists influx causes drop of pricing on staying and transportation. Hence wisely picked time to visit Norway at low season allows getting best of it for reasonable pricing.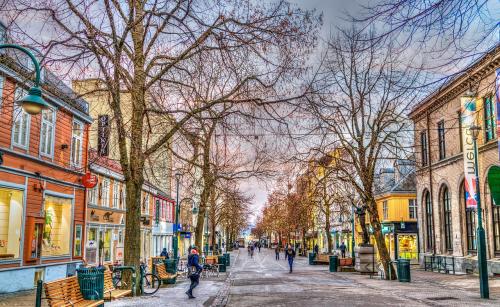 Considering all given above there is actually no season when you definitely would not want to go to Norway. Mild spring, fast summer, damp autumn and severe winter in this country are all attractive in their unique way and best time to hit the road towards Norway highly depends on personal preferences.
(Oslo)
Jan
Feb
Mar
Apr
May
Jun
❄
❄
⛅
⛅
⛅
⛅
-4°C
25°F
-4°C
25°F
0°C
33°F
5°C
41°F
11°C
52°F
16°C
60°F

2.0"

1.4"

0.9"

1.8"

1.8"

2.6"

⛷
⛷
⛷
⌘
⌘
⌘
Jul
Aug
Sep
Oct
Nov
Dec
⛅
☔
⛅
⛅
☔
❄
17°C
63°F
16°C
61°F
12°C
53°F
7°C
44°F
1°C
35°F
-2°C
28°F

3.1"

3.7"

3.1"

2.9"

2.8"

2.6"

⌘
⌘
⌘
⌘
⌘
⛷
❄ - cold; ☔ - rainy; ⛅ - comfort
t° - average; inch - precipitation
⛷ - ski season; ⌘ - excursion season