Norway Nature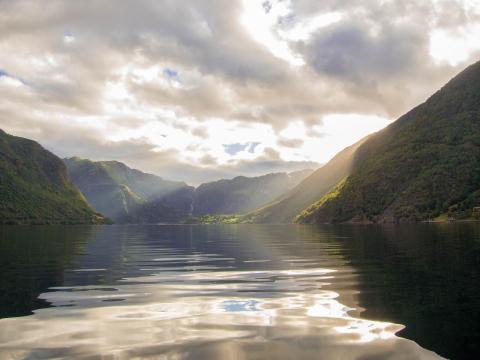 Norway is located on mountainous land. Most of it lies in moderate climate zone however its climate is milder than in other countries on same longitude at least in southern portion. Western regions of Norway are under influence of warm Atlantic currents, while south-eastern part falls under air masses from above the Baltic Sea. Scandinavian mountains are dividing regions with differences in climate.
Considering given above in terms of weather Norway roughly divides into humid and warm western part, drier south-eastern lands and cold northern portion. Those features are forming nature and wildlife of the country. Antropogenic factors did too. It worth mentioning, that recently (in historic scale) influence of population of Norway on its nature is more of positive kind.
Places of Norway
Nature of Norway is severe and beautiful. Rocks, water and air are taking wide variety of forms to create landscapes worth seeing.
Trolltunga (Troll tongue)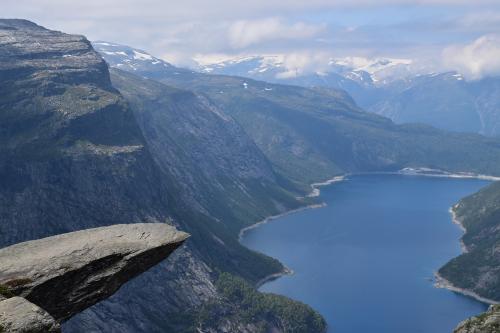 In 27 km (16.7 mi) from Skjeggedal village in 700 m (2300 ft.) above the Ringedalsvatnet Lake there is a cliff. Not ordinary one. The Troll Tongue is jutting horizontally above steep drop. It has become one of the national symbols of Norway and place of extreme interest. It takes up to 9 hours to get to the spot and still up to 500 people are visiting it daily.
Mjosa Lake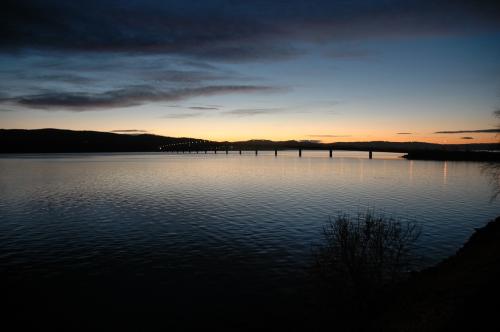 The lake is situated in approximately 100 km (62 mi) away from Oslo. It is the biggest and of the deepest laces in the country and in whole Europe. Area of its surface is about 3652 km2 (140 sq mi) and depth of deepest place is 468 m (1535 ft.). Apart from its natural features there is oldest paddle-steamer that is still in use.
Vinnufossen waterfall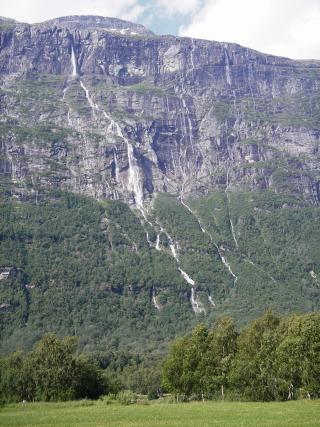 It is the tallest waterfall in Europe. Waters of Vinnufossen are falling from 860 m (2840 ft.) passing several cascades on their way. It is the brightest manifestation of nature of Norway. Sky, rocks and water are blending with mighty trees to create true beauty.
And there are much more of such places. Carefully preserved parks, waterfalls, glaciers, lakes, mountains and woods are waiting to be seen.
Flora of Norway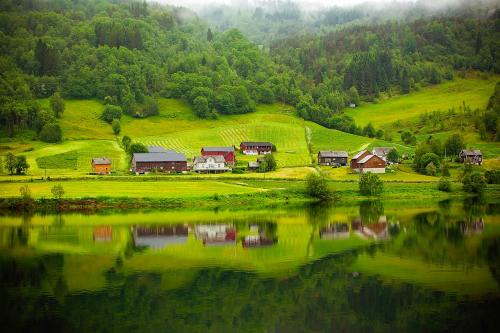 Norway is the land of lakes, woods and tundra. North of the country is covered with pratal vegetation, mosses, lichens and scrubs. In valleys it varies with light fir and birch forests. In western part of the country grass and scrubs are prevailing. Southern areas are covered with oak and beech forests.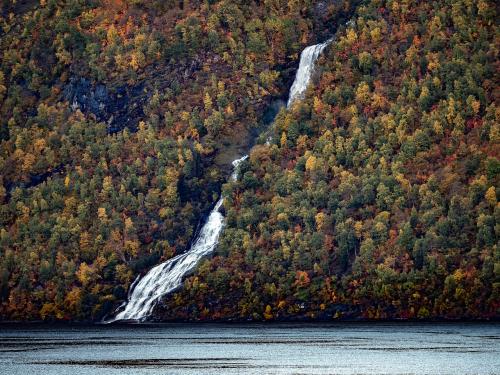 Up to 24% of territory of Norway is covered with forests mostly of pines, firs and birches. Northern forests reach altitude of 300 m (984 ft.) a.s.l. while southern grow on higher altitude of 1100 m (3609 ft.) a.s.l. Above normal woods there are crooked forests. Flat fjeld summits are covered with dwarf willow, cowberries, heathers and dwarf birches.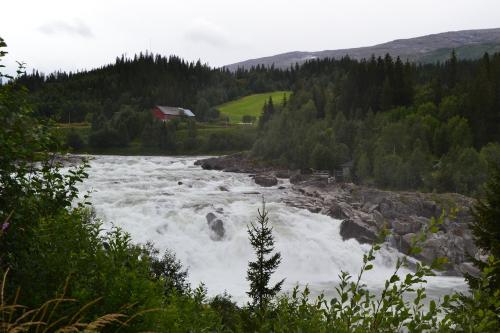 Norwegian wild flora is humble in terms of variety yet bears severe beauty. In addition plant cultivation is developed greatly. There is even local rose capital in Molde town. Norwegians have created numerous parks and preservations. Delicate plants are protected by barriers of planted pines. Difference of temperatures inside such barrier and outside of it reaches 5 °С degrees (approximately 9 °F)
Fauna of Norway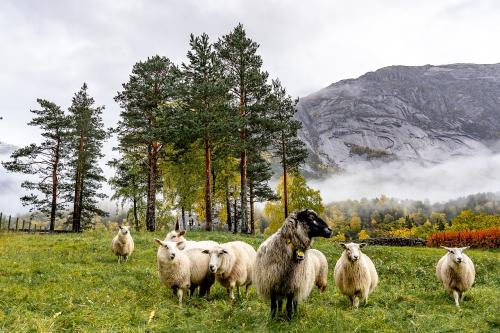 Fauna of Norway consists of spices inhabiting forests and tundra. In northern tundra there are reindeers, lemmings and polar foxes. In forests one is able to meet red deers and elks, martens and weasels, lynxes and chipmunks, beavers and squirrels. Foxes and hares are widespread. Strict nature preservation measures result growing distribution of brown bears, skunk bears and wolves as well as musk-oxen.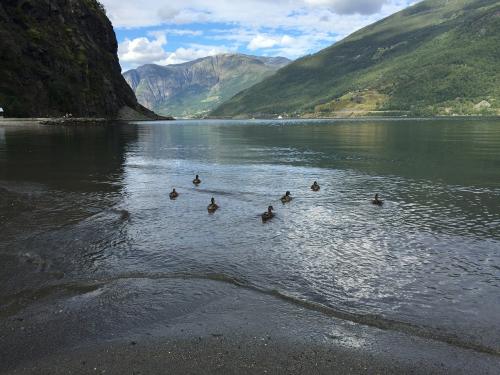 Steep coasts of the country are swarming with rookeries. Coasts and banks are populated with wild geese and ducks, seagulls, eiders and guillemots. In forests there are wood grouses and black grouses. Tundra is home for arctic partridges.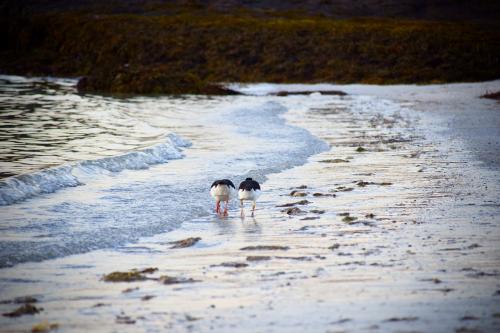 Seals and walruses are gathering on breeding-grounds while whales are gently swimming in the ocean. Seas are attracting fishers with cod and herring, perch and mackerel while in rivers and lakes there are trout and salmon.