Best Time to Visit The Netherlands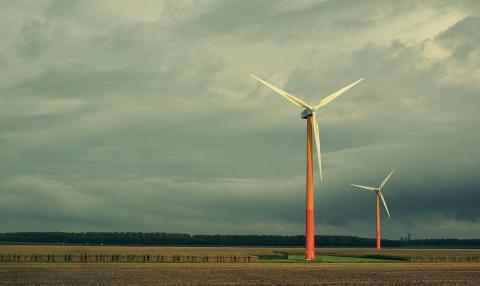 Netherlands is wonderful country in many aspects. It is located on coast of the North Sea in Western Europe. It has plain relief with plenty of rivers and low hills in south-eastern corner of the country. Due to such features of relief air masses travel across the country without any obstacles. About half of territory of Netherland is located below the sea level (including polders – pieces of land conquered from the sea for agricultural and other purposes).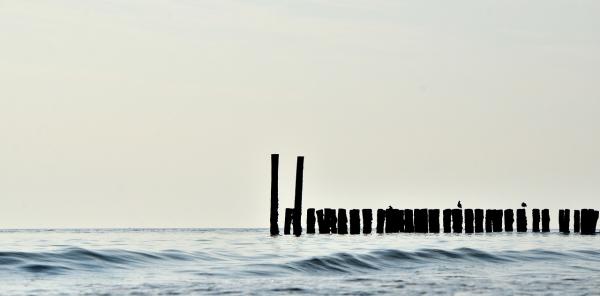 The country has maritime climate with features of temperate weather conditions in inland regions. Temperatures remain above freezing most of the time varying from 2 °C (35 °F) to 17 °C (62 °F) between January and July respectively. Annual amount of precipitation is in range between 650 mm (25.5") and 750 mm (29.5") with frequency of rainfall. Fogs are common for Netherlands unlike snow. Real frosty winter with snow and ice comes to the country only with anticyclones from Eastern Europe.
Season and Low Season
Contents: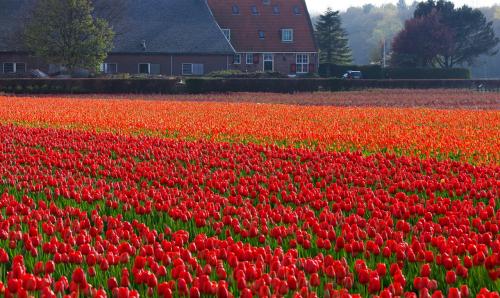 Netherlands offer certain type of activity for every visitor despite time of visit, age of traveler or range of his interests. The best time to visit Netherlands is in April and May. In the middle of spring nature blooms, weather becomes warmer and most of the sights are opening. Also, famous fields of tulips, daffodils, hyacinths and other flowers are blooming. Massive celebrations of Queen's Birthday are held in spring too.
In terms of weather July and August are better. Temperature averages had settled around 20 °C (68 °F) and even frequent rains can't spoil magnificence of summer Netherlands. Picturesque views of windmills through transparent mist of drizzle are completely worth seeing. Also, there is beach season. But the North Sea warms up to around 17-19 °C (62-66 °F) so swimming is only for toughest and on the other hand there are some spots for great surfing and diving. Sunbathing under mild northern sun will suit for sensitive people.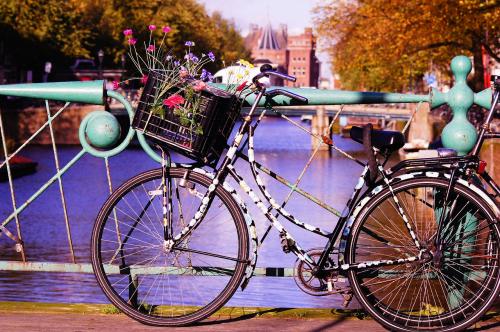 During first half of September weather remains pleasant for cycling or sightseeing. Air is as warm as 18 °C (64 °F) and rains are not as frequent as they will be further in autumn. Also, many attractions of Amsterdam are available year round and don't depend on weather. All museums, architecture and other events work throughout a year.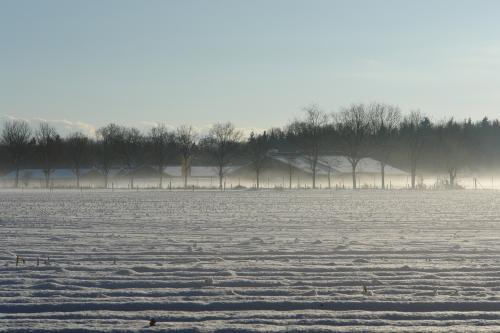 Winter is the least pleasant season to visit Netherlands. Frequent rains and sleet aren't biggest concern. Main downside of winter weather in Netherlands is wind. Due to plain relief cold piercing winds are blowing through whole territory of the country. Temperature is stable and it is in range of 4-8 °C (39-46 °F). But high relative air humidity with strong wind makes it seem colder than it actually is.
Under influence of anticyclones winter may turn freezing cold. For instance in 2008 during such invasion temperature of -20 °C (-4 °F) were recorded. For those who are not afraid of cold it is good opportunity to see White Christmas in Netherlands. Anyway checking on weather forecast beforehand is necessary for any journey.
(Amsterdam)
Jan
Feb
Mar
Apr
May
Jun
❄
❄
⛅
⛅
⛅
⛅
2°C
36°F
3°C
37°F
5°C
41°F
6°C
43°F
12°C
53°F
15°C
59°F

2.5"

1.8"

2.4"

1.8"

2.2"

2.7"

-
-
⌘
⌘
⌘
⌘
Jul
Aug
Sep
Oct
Nov
Dec
⛅
⛅
☔
☔
☔
⛅
17°C
62°F
17°C
62°F
14°C
58°F
11°C
51°F
6°C
43°F
4°C
38°F

2.5"

2.4"

3.0"

3.1"

3.3"

2.9"

⛱⌘
⛱⌘
⌘
⌘
⌘
⌘
❄ - cold; ⛅ - comfort; ☔ - wet
t° - average; inch - precipitation
⌘ - excursion; ⛱ - beach