Best Time to Visit India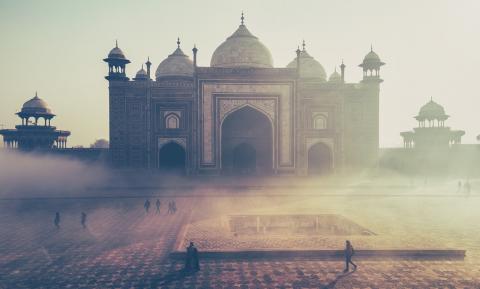 India is the country in South Asia. Most of it is situated on the subcontinent of Hindustan. It is washed by the Indian Ocean. It is the seventh largest country of the world and the second most populated. There are the Himalayan Mountains on northern border of the country and several lesser mountain ranges along eastern edge of the subcontinent. Most of the rest territory is alternation of highland plateaus and depressions.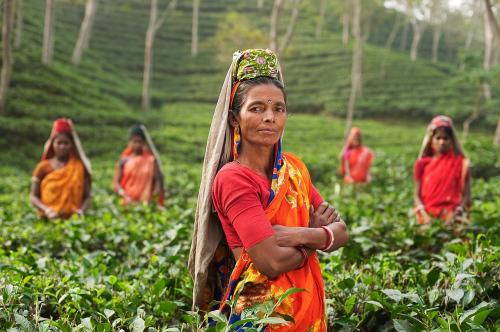 Due to variety of relief and other factors climate of the country varies greatly. In general there are three main climatic regions: humid tropical, dry tropical and subtropical monsoon climate. Also there are pronounces altitude-related variations of climate in mountainous regions.
The Himalayan Mountains are blocking drift of cool continental air from Central Asia, while hot and dry air from above the Tar Desert drifts into the country freely. Moreover it attracts south-western monsoons that drive humid and warm air. Annual amount of precipitation varies too. In fact the rainiest place of the planet is situated in India. Cherrapunji receives up to 12000 mm (472") of rainfall each year, while in the Tar Desert there is only 100 mm (4") of it. Temperature averages vary as well, but actual frost occurs only in highland mountainous areas.
Best time to go to India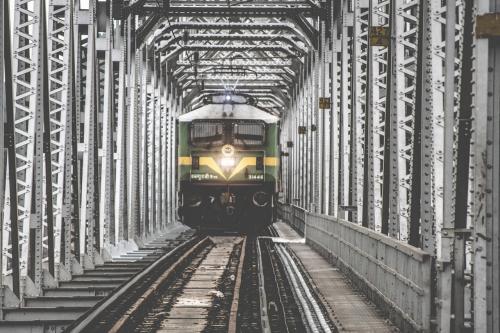 Winter is the best time to visit the country due to many reasons. Specifically weather in this season is mildly warm and dry in relation to other seasons. Moreover comfortable weather conditions also promote sightseeing and other available activities. Rest assured that this country will provide some unforgettable entertainment, wide variety of architectural sights, health improvement through Ayurveda and even some decent skiing.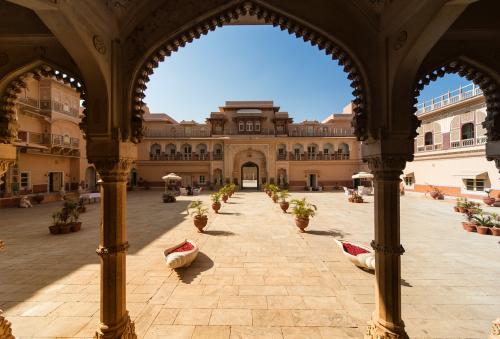 Best time for sightseeing is between November and March. Abundance of temples, tombs, castles and other types of historical heritage requires careful planning of route. But even wandering between attractions scattered all over territory of the country will be pleasant due to great weather. Winter days in India are sunny, dry and warm. Daytime temperatures are varying from 21 °C (70 °F) to 32 °C (89 °F) depending on region.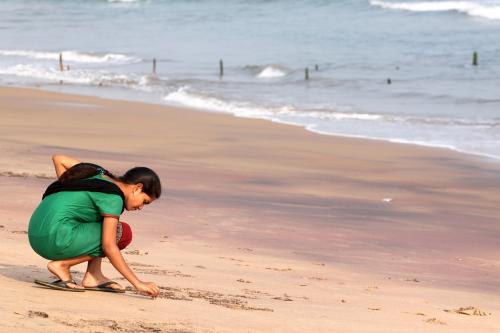 During winter the ocean is warm too. Water temperature varies in range of 26-29 °C (79-84 °F) again depending on region. India possesses hundreds of kilometers of sandy beaches. Among them there are completely wild locations and luxuriously equipped chilling zones. But whether you are staying in simple bungalow or modern super hotel you should mind schedule of tides. Swim carefully during low tide.
Among other seaside activities in winter India offers decent diving. There are thousands of diving sights in waters of the ocean. Vivid coral reefs close to southern tip of the country, sunken WW II ships in the Arabian Sea and clear water by coats of Goa are suitable for scuba diving, snorkeling and other types of diving.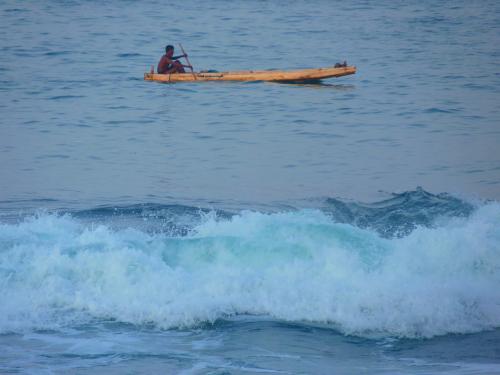 And on top of it all time between October and April is surfing season in several states of the country. 1.5 m (5 ft.) tall waves are great for beginners. Advanced surfers would want to go in India during other half of a year because waves are 4-5 m tall (13-16 ft). Supposedly those waves were on of reasons for India to join International Surfing Association (ISA).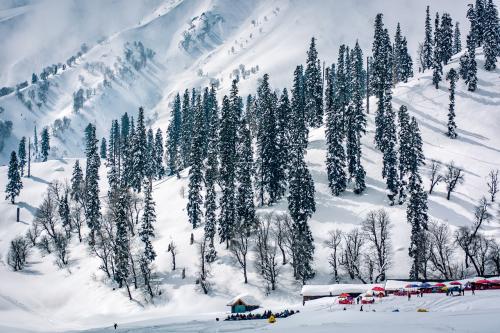 Once you'll get enough of splashing in the warm ocean, it will be the time to go to Himalayas for some skiing. Skiing season overlaps on swimming season and respective resorts in the mountains are numerous. But be ready for cool temperatures of -10 °C (14 °F) to -8 °C (17 °F).
Climate and Seasonality by Month
Delhi
Jan
Feb
Mar
Apr
May
Jun
⛅
⛅
⛅
☀
☀
⛆
14°C
58°F
17°C
62°F
23°C
73°F
28°C
83°F
33°C
92°F
34°C
93°F

1.0"

0.8"

0.7"

0.3"

0.3"

2.5"

⌘
⌘
⌘
⌘
⌘
-
Jul
Aug
Sep
Oct
Nov
Dec
⛆
⛆
⛆
⛅
⛅
⛅
31°C
88°F
30°C
86°F
29°C
84°F
26°C
78°F
20°C
68°F
16°C
60°F

8.3"

6.9"

5.9"

1.2"

0.0"

0.2"

-
-
-
⌘
⌘
⌘
⛆ - monsoon; ⛅ - comfort; ☀ - hot
t° - average; inch - precipitation
⌘ - excursion
Goa
Jan
Feb
Mar
Apr
May
Jun
☀
☀
☀
☀
☀
⛆
32°C
90°F
31°C
88°F
32°C
90°F
33°C
91°F
33°C
91°F
30°C
86°F

0.0"

0.0"

0.1"

0.0"

0.8"

36"

⌘⛹
⌘⛹
⌘⛹
⌘
⌘
-
Jul
Aug
Sep
Oct
Nov
Dec
⛆
⛆
⛆
☀
☀
☀
29°C
84°F
28°C
82°F
29°C
84°F
31°C
88°F
32°C
90°F
32°C
90°F

43"

33"

0.6"

0.2"

0.0"

0.3"

-
-
⌘
⌘⛹
⌘⛹
⌘⛹
⛆ - monsoon; ⛅ - comfort; ☀ - hot
t° - average (daytime); inch - precipitation
⌘ - excursion; ⛹ - health
Water Temperature and Seasonality
Jan
Feb
Mar
Apr
May
Jun
26°C
79°F
26°C
79°F
27°C
81°F
28°C
82°F
28°C
82°F
29°C
84°F
⛱
⛱
⛱
⛱
-
-
Jul
Aug
Sep
Oct
Nov
Dec
28°C
82°F
27°C
81°F
27°C
81°F
27°C
81°F
27°C
81°F
28°C
82°F
-
-
-
-
⛱
⛱
t° - average; ⛱ - beach
Rainy season and other weather related concerns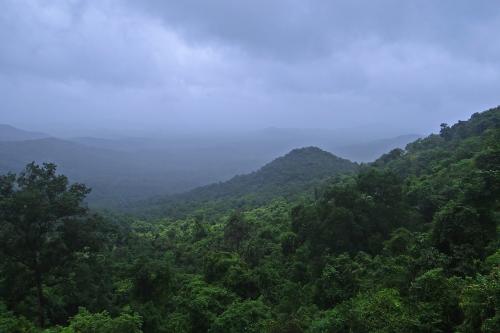 Time between April and October is the hot season in India. It also incorporates rainy season. Weather conditions during this time are awful. Temperature often crawls above mark of 40 °C (104 °F) and relative air humidity is almost 100%. In some states heat combines with dry winds creating "grill effect". Only mountainous regions have more or less comfortable weather with temperatures of 23-29 °C (73-84 °F) and 7-8 rainy days per months.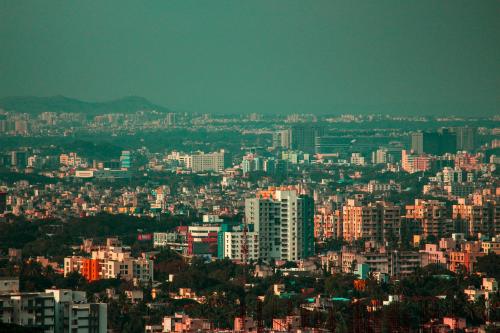 On the other hand summers are considered as the best time for curative Ayurveda technics. High humidity and heat seem to compliment natural circulation of body fluids and other aspects of metabolism. But other than that there is completely nothing to do in summer India that is flooded by tropical showers, burnt by merciless sun and blown by strong winds.