Best Time to Visit France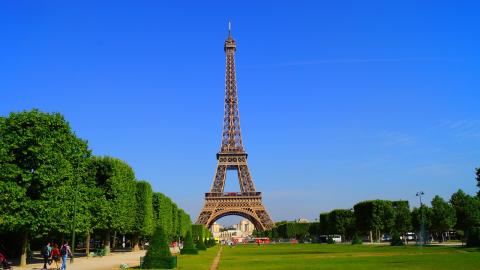 France is the biggest country of the Western Europe. It is washed by the Atlantic Ocean, the North and Mediterranean Seas. Due to influence of Atlantic air masses climate is warmer than in other localities of same longitude. Western half of France is plain so there are no obstacles on way of warm air masses from above the Gulf Stream. Ranges of the Alps in eastern portion of the country in the same protect plans from colder air from Eastern Europe. Sothern part of France is warmer due to influence of the Mediterranean Sea.
On most of territory of the country temperature never drops below freezing. Average summer is warm and dry with temperature of 23-25 °C (73-77 °F) while winter is mild and rainy with temperature average of 7-8 °C (44-46 °F). Average annual amount of precipitation is between 600 mm (23") and 1000 mm (39") with up to 2000 mm (79") on western slopes of the mountains.
Season and Low Season
Contents: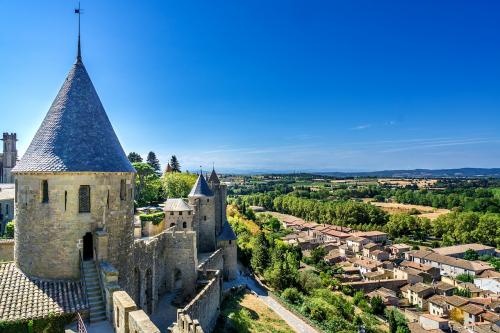 France offers wide variety of activities. It is one of largest European centers of culture, skiing and culinary. In addition there are numerous luxurious spa resorts. Tourist season lasts through whole year with peaks in summer and winter.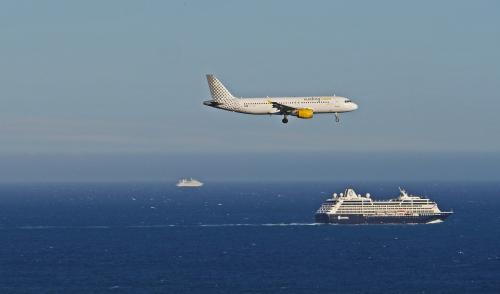 First wave of "tourists flood" occurs in the middle of summer (July-August plus first days of September). Visitors are heading to French Riviera and Atlantic coasts. At this time air in the country warms up to 23-27 °C (73-80 °F) depending on region and the sea (or the ocean) is as warm as 21-24 °C (70-75 °F). Atlantic coasts are rainier and slightly cooler than Mediterranean and nights in mountains are cool with 5-7 °C.
Second peak of tourist interest to France is in winter. Skiing and Christmas celebrations attract crowds of tourists. Winter in France is snowy and relatively mild. Even in populated mountainous regions temperature never drops below -10 °C (14 °F). Plain lands are even warmer with average of 7-9 °C (44-48 °F) and 13 °C (55 °F) on coasts of the Mediterranean Sea. In addition interest to the country grows in periods of Catholic celebrations, summer and winter sales and numerous wine festivals in autumn.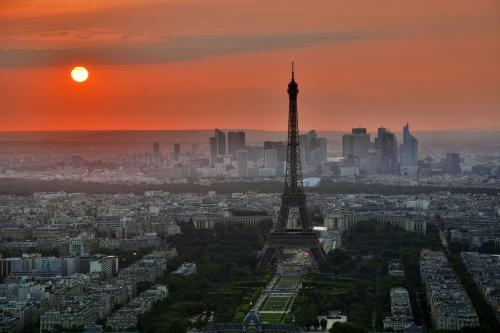 Interest to France remains through whole year. For instance Paris is always crowded. In November and March and around them most of sights are less crowded. Beginning of spring has shifty weather with averages of 11-14 °C (52-57 °F). November is cool, wet and cloudy with temperatures of 8-16 °C (46-61 °F). Those conditions are not very comfortable for most of activities.
On the other hand most of sights, restaurants and other attractions are open even during off-season so mentioned months re perfect for cheap trip to the country. Hotels and hostels lower their pricings and beds of suits are always available.
(Paris)
Jan
Feb
Mar
Apr
May
Jun
⛅
⛅
⛅
⛅
⛅
⛅
3°C
38°F
4°C
40°F
8°C
46°F
11°C
51°F
14°C
58°F
18°C
64°F

2.2"

1.8"

1.2"

1.6"

2.0"

2.0"

⌘
⌘
⌘
⌘
⌘
⌘
Jul
Aug
Sep
Oct
Nov
Dec
⛅
⛅
⛅
⛅
⛅
⛅
19°C
67°F
19°C
66°F
16°C
62°F
12°C
53°F
7°C
45°F
4°C
40°F

2.2"

2.4"

2.0"

2.0"

2.0"

2.0"

⌘
⌘
⌘
⌘
⌘
⌘
⛅ - comfort;
t° - average; inch - precipitation
⌘ - excursion