Nature of Bulgaria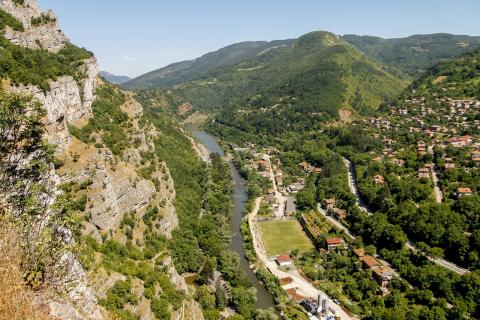 Bulgaria is the country in eastern part of the Balkan Peninsula. Eastern side of it is washed by the Black Sea. Despite moderate area Bulgaria has diverse relief. There are depressions, plans, hills, short and tall mountains as well as numerous gorges and valleys. Man feature of relief of the country is alternation of "stripes" of low and high altitude. Starting on coasts of the Black Sea tall ranges and depressions run from east to west across whole country.
Mentioned features of relief are influencing climate of Bulgaria resulting wide variety of weather conditions. Highlands and lowlands form natural barriers and paths for air masses. Basically the country lies on border of the Mediterranean and temperate climate zones. In general influence of the Mediterranean climate is pronounced in summer with hot and dry weather while in winter temperate climate causes cold and snowfalls.
Places in Bulgaria
Bulgaria can offer affordable vacation on clean great beaches of the Black Sea, majestic mountains, picturesque forests with crystal clear air and numerous wonders of nature. In addition visit to the country is the great chance to take closer look on vivid customs of local people and their famous hospitality.
Kaliakra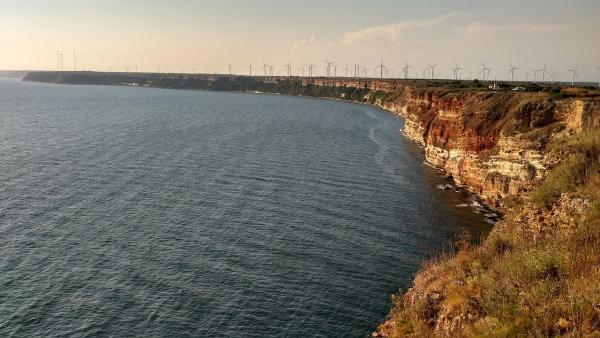 Name of the narrow rocky headland that reaches far in the sea means "beautiful cape". It is 70 m (230 ft.) tall and around 2 km (1.2 mi.) long is indeed remarkable. A medieval town was built on Kaliakra headland but it was completely destroyed. Several reconstructed ruins are only reminding of former settlement. Also there are grottos that are believed to contain a treasure of Alexander the Great.
Pobiti Kamani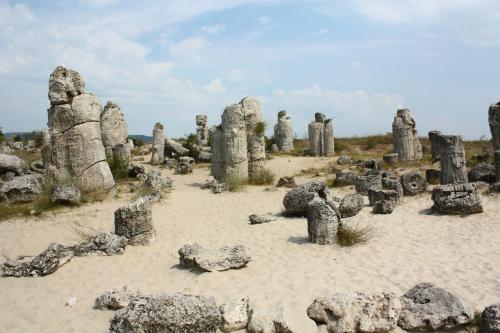 The Stone Desert is the range rock formations with uncertain origins. Around 50 km2 (19 sq. mi.) near Varna are covered with mysterious stone forest. Hollow rocks with strange shapes and up to 10 m (33 ft.) tall are scattered around the area. There are several theories about their origins but none of them was proofed to be true.
Aladzha monastery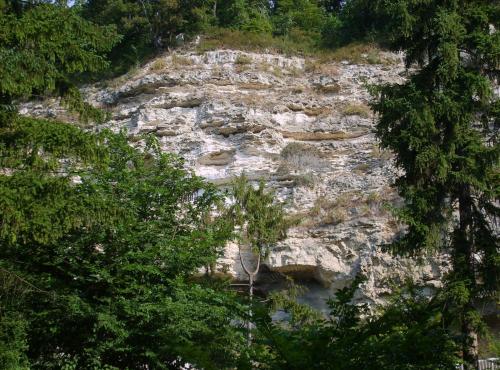 (Author photo: Krasimira and Milen)
In 17 km (10.5 mi.) to morth fromm Varna there are ruins of old Orthodox cave monastery. Rooms of the monastery were hidden in karst caves of sandstone rock elevated by 25 m. Unfortunately merciless time destroyed most of rooms and even actual name of the monastery is lost. "Aladzha" is Turkish name that was given to the place for vivid murals on its walls.
Melnik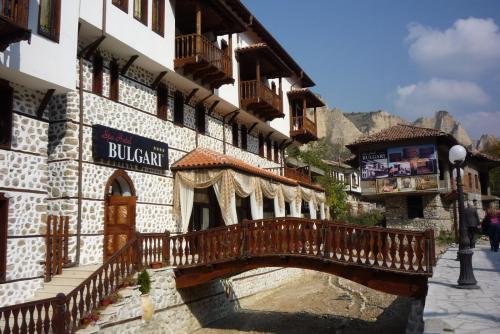 (Author photo: Colin W)
Melnik is the smallest town in Bulgaria but it is famous for its wine. Walking around the town with its ancient merchant's houses, remarkable architecture and views of white cliffs won't take much time. Though, visit to local tavern would last for couple of hours. Wide selection of wines and local food will entice visitors for long.
Belogradchik Rocks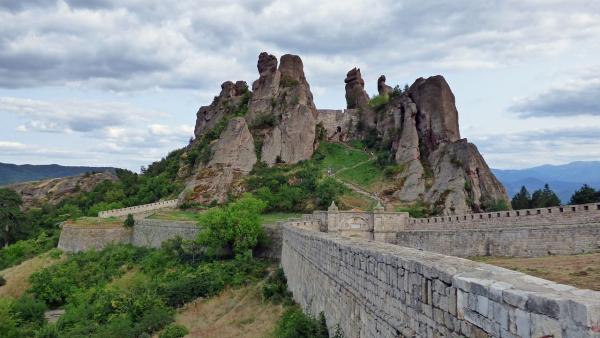 This outstanding creation of nature is located in 150 km (93 mi.) to north from Sophia. Giant red rocks are rising up to 200 m. Some of them have their personal names such as the Madonna, the Schoolgirl or the Vincent. Part of the rock formations was used as fortification structures. Ancient Romans built the Belogradchik fortress that was used by Byzantines, Bulgarians and Ottomans.
Flora of Bulgaria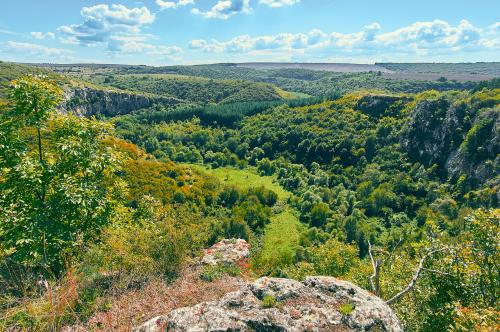 Bulgaria has favorable weather conditions for growth of plants of both Mediterranean and temperate climate. There are more than 3500 species of plants in the country. Mountains are rich on endemic species such as Primula Balkan, Rhodopian rose, Thracian oak and Rila rhubarb. Almost third part of the country is covered by forests with shrubs and grassy steppes.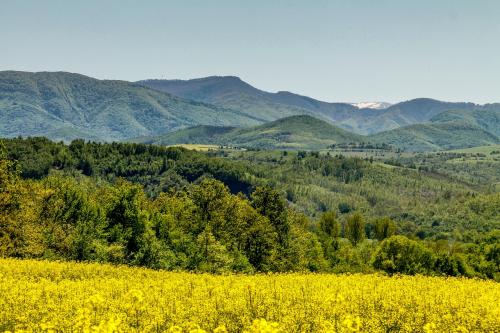 Broad-leafed woods are prevailing. Depressions and hilly areas are covered with several species of oak and beech. Elm and ash forests are widespread too. Hornbeam starts to grow on land with moderate elevation of 1400-1800 m (4590-5900 ft.) while higher regions are occupied by white pine, spruce and fir. Endemic Balkan black and white spruces are making Bulgarian coniferous forests special.
Fauna of Bulgaria
(Migrating birds)
Rapid deforestation in second half of XX century harmed fauna of Bulgaria. But now many species are under protection. There are 40 species of mammals, 397 species of birds, 207 species of fish and 52 species of amphibians and reptiles.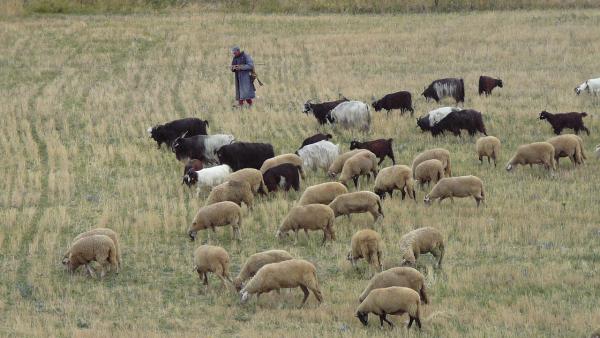 (Pasture animals)
Forests are populated by deer, roe deer and boar. Fauna of mountains is represented by black minks, badgers, wolves, foxes and various small rodents. 252 species of birds are nesting in Bulgaria. Territory of the country is crossed by two major migration routes. There are 16 of 29 European protected species of birds in Bulgaria: Dalmatian pelican, white-tailed eagle, black vulture, eastern imperial eagle, red-breasted goose and others.