Nature of Iceland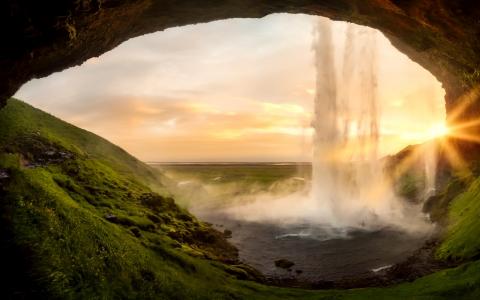 Iceland is the country and the island of same name. It is situated in northern part of the Atlantic Ocean to east from Greenland. Territory of the country also comprises several lesser islands around main one. It is the land of mountains, volcanoes and glaciers.
Climate of Iceland is milder than one would expect, though it is cool year round. Weather conditions formed due to influence of warm North Atlantic Current, cold East Greenland Current and drifting polar ice. Weather of southern and northern parts of the island is different.
Places in Iceland
Nature of Iceland is breathtaking. Scenery of mountains covered by low and tough vegetation under drifting clouds is inspiring. Glaciers, waterfalls, sudden hot springs and rare forests combine with unique volcanic reliefs and the ocean to create one of the most beautiful places of the planet.
Gullfoss
Gullfoss is the largest waterfall of the country. Water there falls from 70 m (230') tall cliff with two steps. Glacier River Hvítá feeds the waterfall and its neighborhood, valley of Haukadalur, is as beautiful as the waterfall itself. Typically for Iceland there is great road that connects the sight with nearby locality. Also there are free parking lots and a café.
Aurora borealis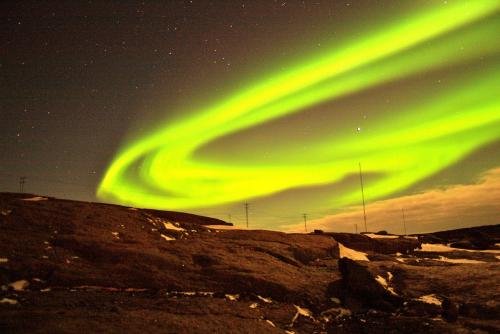 Since Iceland is located in northern part of the world auroras are common there. Visitors may choose to stay in hotels located in areas where polar lights appear especially often or go for a ride on jeep or bus to track and chase auroras.
Geysir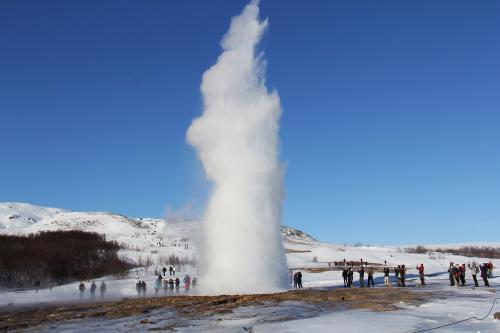 The Great Geysit is the first geyser of famous Icelands' Golden Ring. Also it is the largest of them. It erupts with 60 m (197') tall stream hot water. From time to time the Great Geysir calms down and turns into round 1.2 m (4') deep lake with green water.
Askja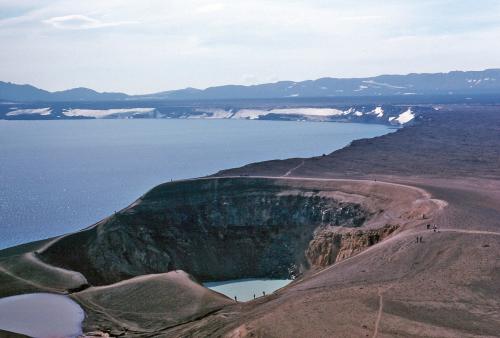 Askja is the volcano in central part of the country. It has massive caldera with two lakes. Öskjuvatn is the deepest lake of Iceland and it is covered with ice most of time. Viti is the lake that located directly in the caldera. The water in the lake has high concentration of sulfur and temperature of 20-600C (68-1400F). No wonder that its name is translated as hell.
Landmannalaugar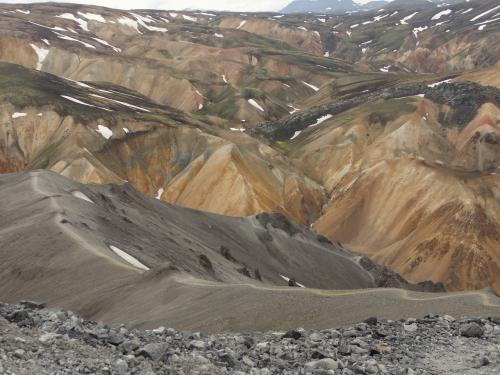 Landmannalaugar is unique geological formation and the national park. Water and lava fused and blended there to create vibrant colorful hills and gorges. Colors change depending on features of lighting and the whole scenery is complete with clouds of steam rising above local hot springs.
Flora of Iceland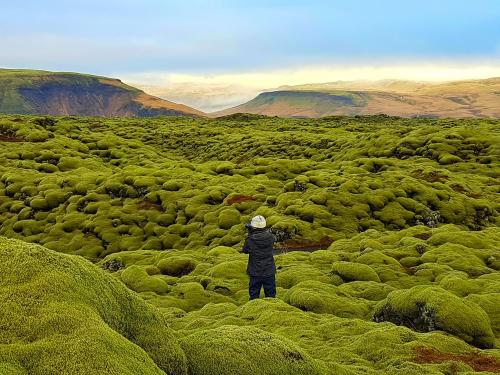 (lava field)
Only around quarter of Icelands' territory is covered with vegetation of some sort; predominantly there are bushes, heather, willows, dwarf birch and various swamp vegetation. Severe weather conditions, volcanoes, movement of glaciers and hundreds of years of thoughtless agriculture form harsh conditions for plants. There are around 470 species of plants in the country.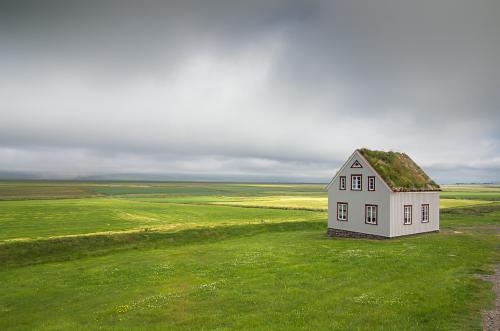 For 11 hundred years Vikings and their descent were using natural resources, but since early 20th century population of Iceland started to protect and take care of unique nature of the island. Nowadays there are plenty of plantations to stop the erosion. Some species of planted trees were specifically bred to grow in climate of Iceland.
Fauna of Iceland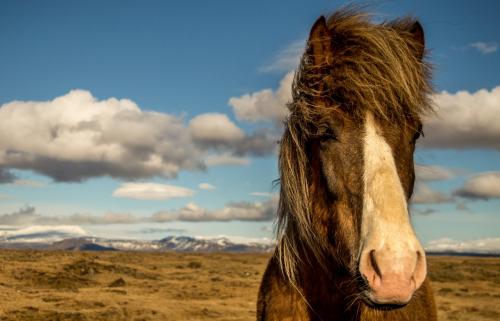 There are few species of mammals in Iceland: arctic foxes, deer, minks, rats, common mice and striped field mice. Deer were introduced to the island from Norway in 18th century. Nowadays there are wild herds of them in north-eastern part of the country. Seals and whales are occasionally visit harbors and fjords of Iceland.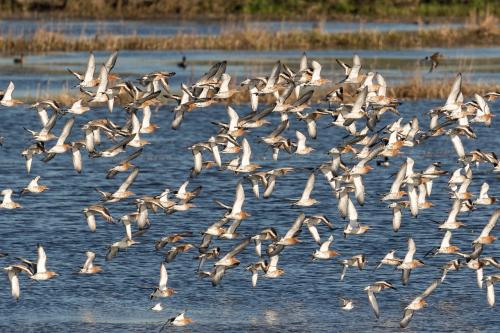 Variety of birds is much wider. There are 78 species of them including:
rock ptarmigan;
falcon;
mallard;
tern;
snow bunting;
Northern gannet;
Atlantic puffins are most numerous with population of 5-6 millions.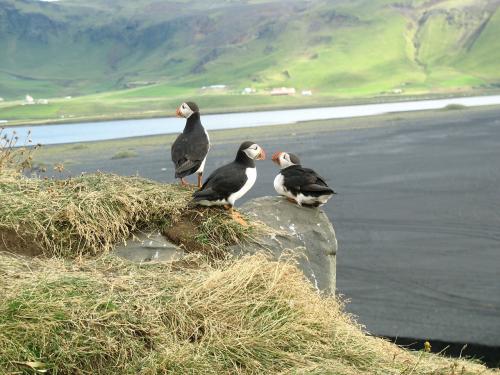 (puffins)
Also there are around 1200 species of insects, but vast majority of them aren't bothering.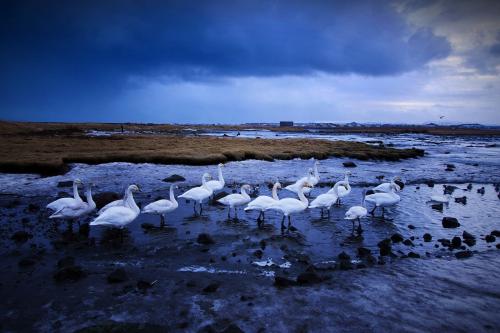 (white swan)
Only bees and mosquitoes are able to cause some discomfort, but they are rare.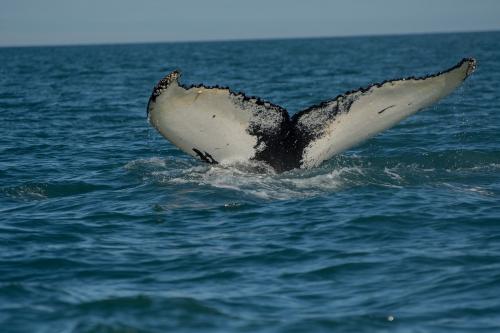 (whale)
Territorial waters of the country are swarming with various fish. There are herring and cod, sea wolves, caplin and other northern fishes.