Ski Resorts in Finland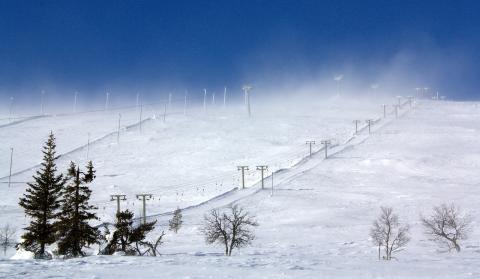 Northern location of Finland along with closeness of the Arctic Ocean are forming cold climate of the country. Hence northern regions of the country have coder and more humid continental climate while southern portion lies within the zone of transition from maritime to continental climate (due to influence of the Baltic Sea). In addition warm winds of the Atlantic Ocean are softening weather and temperature ranges of the country.
Finland offers both summer and winter activities. Thus different recreation sights are distributed over its territory. Numerous skiing trails, pristine nature and local customs (recognizable Finnish sauna for instance) providing activities in each part of the country at any season.
Climate and Seasonality
Pyhä and Luosto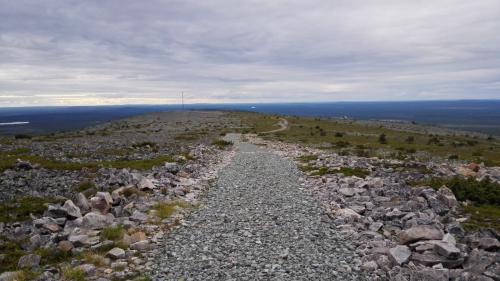 Two ski resorts in the middle of northern part of Finland had organized two provide convenient system of ski-passes. There are located at foots of two high hills, Pyhätunturi (419 m or ft.) and Ukkoluosto (514 m or ft.). Pyhä – Luosto is located in 170 km to north from Rovaniemi and there is about 18 km between the resorts (there is shuttle bus between them).
Climate in Pyhä and Luosto by Seasons
Climate of the resorts is dry and cold. Spring starts with average temperatures in negative range (below 32 °F). At March air cools down to -3 °C and it is slowly getting warmer until reaches 9 °C at May. Summer is much warmer with its range of averages of 16-19 °C and white nights when sun never leaves the sky for two months. Autumn brings significant decreasing of temperature from 10 °C at September to -3 °C at November. Winter is much colder with its -6 to °C -12 °C temperature ranges. At coldest nights temperature might even go lower to -26 °C.
Climate and Seasonality by Month
Jan
Feb
Mar
Apr
May
Jun
-14°C
7°F
-14°C
7°F
-9°C
17°F
-2°C
28°F
+4°C
41°F
+11°C
52°F
⛷⛹
⛷⛹
⛷⛹
⛷⛹
⛷ ⛹
⛹
Jul
Aug
Sep
Oct
Nov
Dec
+14°C
57°F
+12°C
53°F
+6°C
43°F
0°C
32°F
-7°C
20°F
-12°C
10°F
⛹
⛹
⛹
⛹
⛷⛹
⛷⛹
t° - average; ⛷ - ski; ⛹ - health
Levi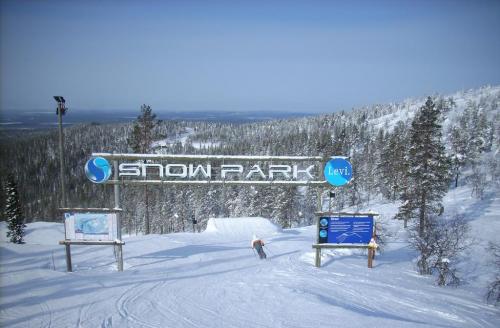 Levi is the biggest ski resort of Finland. It is located the village of Sirkka around the mountain of the same name. Whole region lies above the Arctic Circle with all resulting features of local climate. Nevertheless weather in Levi obtains features of continental climate.
Climate in Levi by Seasons
March and April are rather cold months with daytime averages around -3 °C (26 °F) to -4 °C (24 °F) and at May air warms up to 9 °C (48 °F) and skiing season finishes. Mean average of June is 12 °C (53 °F) wile at July and August sun elevates air temperature to almost 20 °C (68 °F). September is first threshold of winter. Temperature rapidly decreases to 8-10 °C (46-50 °F). October is it colder and at November actual winter starts. Stable negative temperature and snow cover marking beginning of skiing season. Daytime average of December is -4 to -5 °C (24-23 °F) and -9 °C to -10 °C (16-14 °F) at January and February.
Climate and Seasonality by Month
Jan
Feb
Mar
Apr
May
Jun
-12°C
10°F
-10°C
14°F
-6°C
21°F
-1°C
30°F
+6°C
42°F
+15°C
59°F
⛷
⛷
⛷
⛷
⛷
⛷
Jul
Aug
Sep
Oct
Nov
Dec
+17°C
63°F
+16°C
61°F
+10°C
50°F
+2°C
36°F
-4°C
25°F
-8°C
18°F
⛷
⛷
⛷
⛷
⛷
⛷
t° - average; ⛷ - ski
Ruka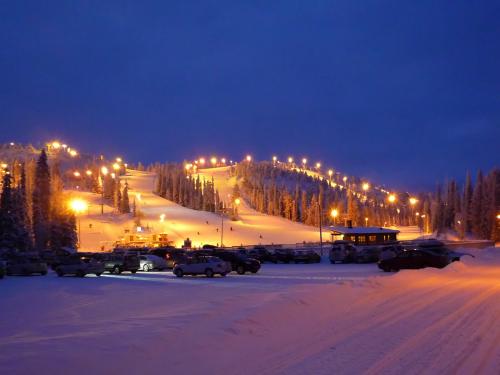 The resort is located in 25 km (15.5 mi) to the north from the Kuusamo town closer to Rukatunturi upland (492 m or 1610 ft. a.s.l.) and border with Russia (45 km or 28 mi). Features of subarctic and moderate climate provide long skiing season. Snow producing equipment allows opening the season at November and closing it in late May.
Climate in Ruka by Seasons
Winter here is cool without severe frost and summer is comfortably warm. Spring averages are growing from -4 °C (25 °F) at March to 9 °C (48 °F) at May. Naturally summer is way warmer with range of daytime temperature of 16-19 °C (61-66 °F). Peak of precipitation is at July when its amount reaches 80 mm (3 inches). Autumn marks drop of temperature. To 10 °C (50 °F) at first month and down to -3 °C (26 °F) at November. Daytime winter temperature floats around -8 °C (18 °F) with significant decreasing at night to -15 °C (5 °F).
Climate and Seasonality by Month
Jan
Feb
Mar
Apr
May
Jun
-13°C
8°F
-13°C
8°F
-8°C
17°F
-3°C
28°F
+4°C
40°F
+11°C
52°F
⛷⌘
⛷⌘
⛷⌘
⌘
⌘
⌘
Jul
Aug
Sep
Oct
Nov
Dec
+14°C
57°F
+11°C
52°F
+6°C
42°F
0°C
32°F
-6°C
21°F
12°C
11°F
⌘
⌘
⌘
⛷⌘
⛷⌘
⛷⌘
t° - average; ⛷ - ski; ⌘ - excursion
Ylläs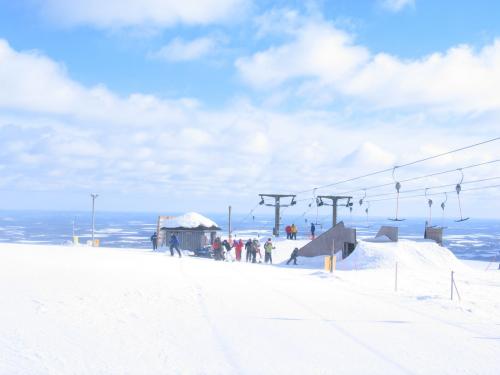 Second biggest resort of Lapland is located in two villages (Äkäslompolo and Ylläsjärvi) which are located on both sides of the Ylläs fell (718 m or 2356 feet). It is the highest ski-ready structure of relief in Finland. There five more fells in the area and villages are connected with the road (11 km or 6.8 mi) around the fell. Skiing season lasts from November to early May.
Climate in Ylläs by Seasons
Ylläs is located in northern portion of a country thus transitions between seasons here are more pronounced comparing to southern part of the country. Spring temperature starts with -2 °C (28 °F) at March and grows to 9 °C (48 °F) at May. At summer the sun warm air up to 17-20 °C (62-68 °F). In addition it is the rainiest season. Through rest of a year precipitation is moderate. Through autumn it cools down from 11 °C (52 °F) to -2 °C (28 °F). Winter averages are between -5 °C (23 °F) and -7 °C (19 °F).
Climate and Seasonality by Month
Jan
Feb
Mar
Apr
May
Jun
-15°C
5°F
-14°C
6°F
-9°C
15°F
-3°C
27°F
+4°C
40°F
+11°C
52°F
⛷
⛷
⛷
⛷
⛷
-
Jul
Aug
Sep
Oct
Nov
Dec
+14°C
57°F
+12°C
53°F
+6°C
43°F
0°C
32°F
-7°C
19°F
-13°C
9°F
-
-
-
-
⛷
⛷
t° - average; ⛷ - ski;