Winter in Quotes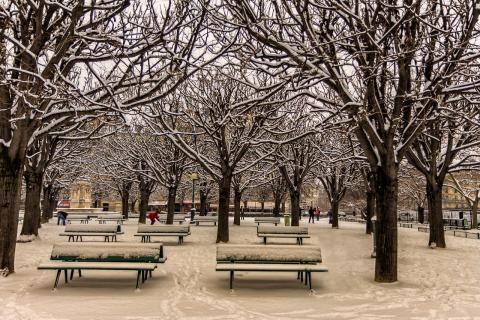 Winter equals expectation. It's the time when all harvests are gathered, all acts committed, and all conclusions are made. Long winter evenings are good for reading, listening to cozy music.
Hot cocoa, tea, coffee and mulled wine with company of loved ones ease expectation of spring and summer. During cold winter warmth of all kinds is highly appreciated.
There are lots of quotes and expressions about winter. This contemplative season creates great inspiration for unveiling your deepest verges. So let's take a look on where it may lead on examples of famous person's expressions.
Quotes About Winter by Famous People
"I wonder if the snow loves the trees and fields, that it kisses them so gently? And then it covers them up snug, you know, with a white quilt; and perhaps it says "Go to sleep, darlings, till the summer comes again."
(Lewis Carroll)
"Melancholy were the sounds on a winter's night."

"Never are voices so beautiful as on a winter's evening, when dusk almost hides the body,

and they seem to issue from nothingness with a note of intimacy seldom heard by day."
(Virginia Woolf)
"Are the days of winter sunshine just as sad for you, too? When it is misty, in the evenings, and I am out walking by myself, it seems to me that the rain is falling through my heart and causing it to crumble into ruins."
(Gustave Flaubert)
"In the depth of winter I finally learned that there was in me an invincible summer."
(Albert Camus)
"I love the scents of winter! For me, it's all about the feeling you get when you smell pumpkin spice, cinnamon, nutmeg, gingerbread and spruce."
(Taylor Swift)
"I prefer winter and Fall, when you feel the bone structure of the landscape — the loneliness of it, the dead feeling of winter. Something waits beneath it, the whole story doesn't show."
(Andrew Wyeth)
"Winter tames man, woman and beast..."
(William Shakespeare)
"Winter is on my head, but eternal spring is in my heart."
(Victor Hugo)
"One kind word can warm three winter months."
(Japanese proverb)
"Every mile is two in winter."
(George Herbert)
"Antisthenes says that in a certain faraway land the cold is so intense that words freeze as soon as they are uttered, and after some time then thaw and become audible, so that words spoken in winter go unheard until the next summer."
(Plutarch)
"Many human beings say that they enjoy the winter, but what they really enjoy is feeling proof against it."
(Richard Adams)
Winter is the season in which people try to keep the house as warm as it was in the summer, when they complained about the heat.
(Author unknown)