Summer in Quotes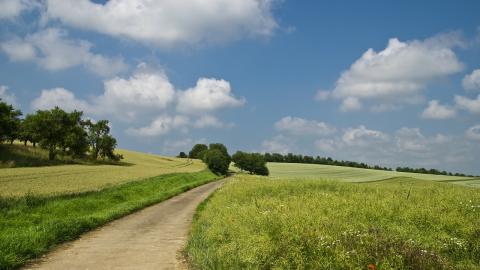 Summer sun generously shreds its light energy and light. So summer is the best time to collect this energy and fulfill all plans and ideas which were inspired by blooming spring.
On the other hand it is the most suitable time to restore personal resources. And despite the picked way of spending this season is worth simple enjoying.
Summer brings spiritual energy, fruits, sunny days, joy, and many other things. At the same time it brings lots of thoughts. Writers, philosophers, scientists and many other famous people weren't hesitated to express those. So let's have a look at some picked quotations about summer.
Quotes About Summer by Famous People
"And so with the sunshine and the great bursts of leaves growing on the trees, just as things grow in fast movies, I had that familiar conviction that life was beginning over again with the summer."

"Summer is only the unfulfilled promise of spring, a charlatan in place of the warm balmy nights I dream of in April. It's a sad season of life without growth…It has no day."
(F. Scott Fitzgerald)
"Summer's lease hath all too short a date."
(William Shakespeare)
"Let a man walk ten miles steadily on a hot summer's day along a dusty English road, and he will soon discover why beer was invented."
(Gilbert K. Chesterton)
People don't notice whether it's winter or summer when they're happy.
(Anton Chekhov)
"What good is the warmth of summer, without the cold of winter to give it sweetness."
(John Steinbeck)
"Our summer is just painted in green winter."
(Georg Wilhelm Friedrich Hegel)
"Early summer days are a jubilee time for birds. In the fields, around the house, in the barn, in the woods, in the swamp - everywhere love and songs and nests and eggs."
(E.B. White)
"Summer is the time for dreaming, and then you have to stop. But some people go on dreaming all their lives, and cannot change."
(Knut Hamsun)
"Summer is a promissory note signed in June, its long days spent and gone before you know it, and due to be repaid next January."
(Hal Borland)
Aaah, summer - that long anticipated stretch of lazy, lingering days, free of responsibility and rife with possibility. It's a time to hunt for insects, master handstands, practice swimming strokes, conquer trees, explore nooks and crannies, and make new friends.
(Darell Hammond)
"Winter will never come for the likes of us. Should we die in battle, they will surely sing of us, and it's always summer in the songs. In the songs all knights are gallant, all maids are beautiful, and the sun is always shining."
(George R.R. Martin)
"...Summer nights held a special kind of loneliness that gave rise to strange imaginings. One walked the beach alone and thought too much."
(Robert Ludlum)