Summer in Art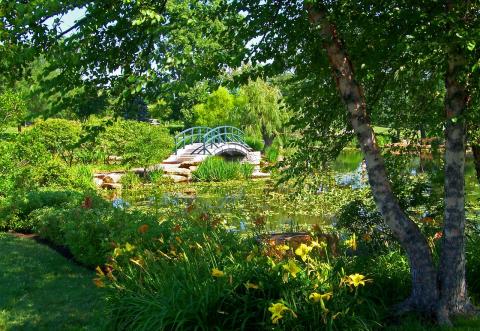 Summer itself represents grand burst of energy. It represents in paintings dedicated to this season in plenty of light and bright colors, in clear sky and fresh wind, in all the glory of nature. Sun, warmth and joy are main themes in most of summer paintings. Surprisingly most significant of summer painting were made at the end of XIX century.
Vincent Van Gogh "Wheat Field with Cypresses" 1889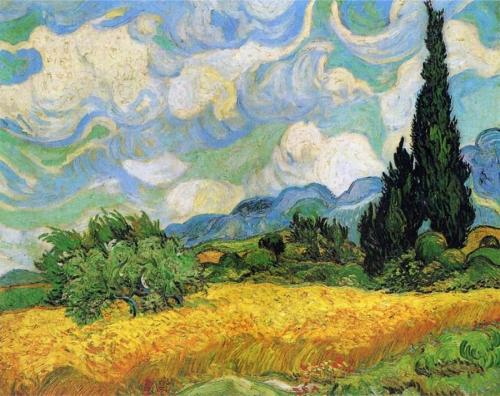 Flowing paints on this canvas are composing calm summer Mediterranean day. Bright blue sky transits to violet hills on the background and then to yellow wheat fields. Dark green cypresses are similar to flames. This piece was made during the year which Van Gogh had spent in the asylum.
Georges Seurat "Sunday Afternoon on the Island of La Grande Jatte" 1884
This huge canvas (measuring 2x3 meters) is one of the first pieces of pointillism technique. Critics of those times called this piece "mosaic of boredom". Contemporary art lovers find it fun and cheerful. But despite those opinions painting represents masterly placed lights and shadows for creating right mood.
Paul Gauguin "Tahitian Landscape" 1891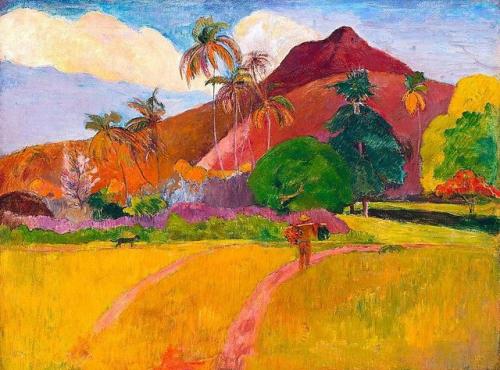 Summer left great mark in impressionism and postimpressionism. "Tahitian Landscape" by Paul Gauguin was inspired by untouched nature of Tahiti where artist went to escape European civilization. Intense colors and curved contours are representing joy of being at sunny tropical sight.
Edward Hopper "Sun on Prospect Street (Gloucester, Massachusetts)" 1934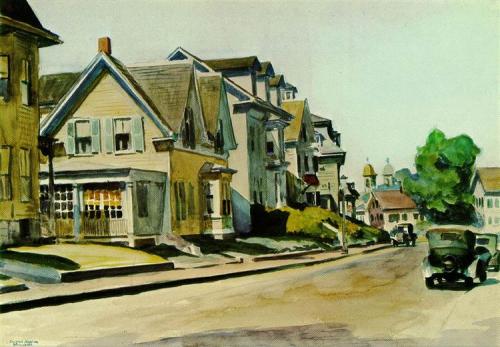 On this painting bright summer sunlight meets strange geometry o buildings. Empty Street and accurately picket color of summer sky are creating wide space and increase felling of hot noon. All the inhabitants of the city are hided in their cool houses and intensive sun seamlessly shreds its rays on roofs and road.
Isaac Levitan "Summer Evening" 1900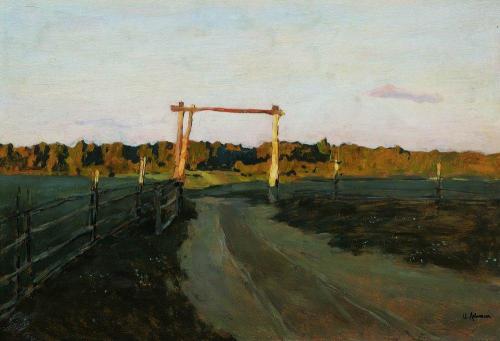 This simply but very masterly depicted countryside landscape immerses spectator in atmosphere of summer evening. Relatively dull foreground shades bright middle distance with great sunset lighting. And bright background lures to chase outgoing summer day.
Vasily Dmitrievich Polenov "Overgrown pond" 1879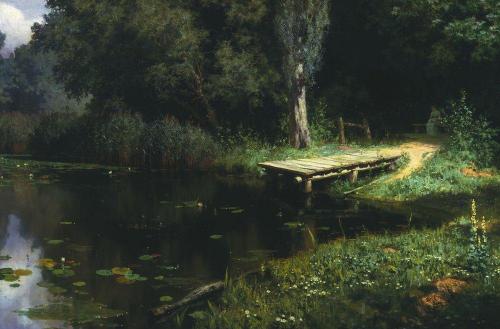 Most of this canvas is covered by numerous shades of green. Grassy benches of pond, shady forest on background and barely visible women in the shade of trees at the forest edge are masterly painted. This calm and cool landscape emits waves of lazy summer noon.