Seasons in South Africa
South Africa has always been one of the most beautiful places on the planet. This is a country where almost no end to the attractions you can see each person, as the variety of landscapes and activities here are limitless.
To keep you busy here are twenty national parks, safaris in two steps from an unprecedented variety of fauna of the African continent, train travel on the historic trains, the infrastructure for a number of sports and many other things.
South Africa is located in several climatic zones. There are deserts and areas with Mediterranean and even subtropical climate. The difference and the temperature and humidity in different areas of this part of the world is very important. We must therefore say that the seasons in South Africa are opposite the seasons in the Northern hemisphere of the continent.
Summer weather in South Africa begins in October and ends in March. The temperature at this time reaches 35 degrees. Winter weather is set in the period from June to August, when temperatures can drop below zero at night and during the day to climb to 20 degrees. Spring and autumn is a short period of time — 2 months.
In South Africa there is no animal that with the onset of cold weather would fall into hibernation. Representatives of the local fauna generally behave the same at any time of the year. The fauna here is quite varied. Can be seen as predatory animals such as jackals, hyenas, leopards and lions and herbivorous elephants, antelopes, zebras and all kinds of monkeys.
Holidays celebrated in South Africa as in any other country in southern Africa has seen many festivals, many festivals take place. And without exception, all the residents love and appreciate them. The country celebrates both national and traditional holidays and global celebrations, and the abundance of various music and theatre festivals certainly will not help anyone to get bored! In each province hold local festivals with good food and wine, singing, dancing and theatrical shows. Also in every South African city, there are regular carnivals and theatrical procession through the streets.
Weather and Climate
Spring in South Africa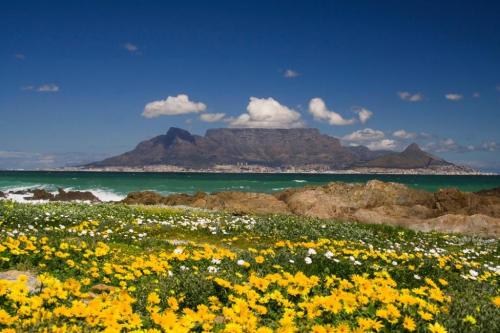 Spring in South Africa starts in August. During this period the temperature increases, and the per diem jumps sharply increase. In August in different areas of the southern African region, the day temperature can rise to a mark in 20 degrees, and at night drop down to 8-10 degrees, respectively. In September, those figures rise by no more than 2-5 degrees. The water in the rivers and lakes warms up to 15 degrees. At this time, also actively developing and blooming vegetation. For example, in Botswana begin to grow and blossom acacia, marutama.
Spring in regions located at large distances from the coast, begins the traditional season of winds. Unlike winter and other seasons when the wind speed rarely is 1.5 meters per second, in August the wind speed reaches 8 meters per second, and even more.
The climate of the spring months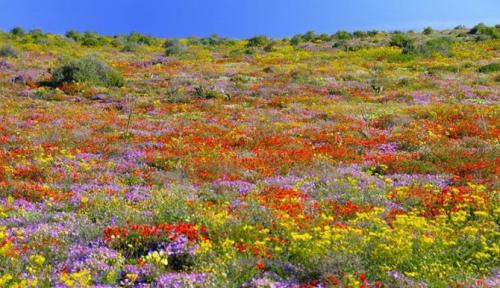 (Pretoria, South African Republic)
September
Max average t°: +26 °C (79 °F)
Min average t°: +12 °C (54 °F)
Precipitation: 20 mm (0,8")
October
Max average t°: +27 °C (81 °F)
Min average t°: +14 °C (57 °F)
Precipitation: 7 mm (0,3")
November
Max average t°: +27 °C (81 °F)
Min average t°: +16 °C (61 °F)
Precipitation: 10 mm (0,4")
---
Spring holidays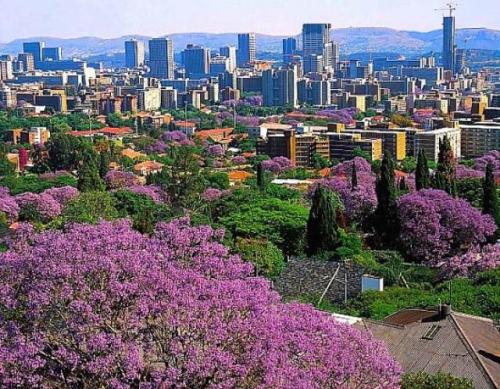 Here is a list of festivals that are actively celebrated in South Africa:
September, 24 — heritage day.
October, 10 — day Kruger;
Summer in South Africa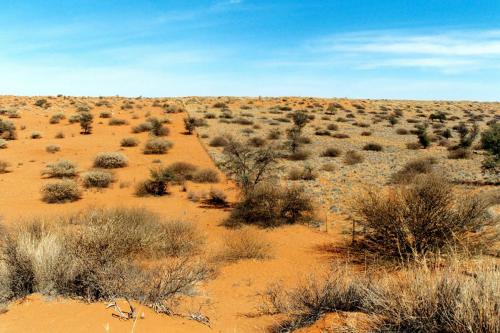 October — this month in South Africa, summer starts. This season the air temperature in almost all regions of the continent can reach 35 degrees. Day throughout, is the relentless dry heat, at night the thermometer drops to 15 degrees. For example, in South Africa there is a sharp daily fluctuations of temperature, and the air is released to the level below zero. In most cases these differences are in the mountainous areas. The largest amount of rainfall for the year falls in South Africa in the summer season.
Great variety and wealth of flora is a small South African country of Swaziland. There are about 2.5 thousand species of plants. These are various flowers, trees and shrubs.
The climate of the summer months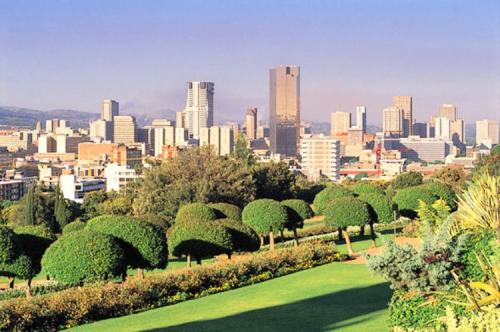 (Pretoria, South African Republic)
December
Max average t°: +28 °C (82 °F)
Min average t°: +17 °C (63 °F)
Precipitation: 108 mm (4,2")
January
Max average t°: +29 °C (84 °F)
Min average t°: +18 °C (64 °F)
Precipitation: 135 mm (5,3")
February
Max average t°: +28 °C (82 °F)
Min average t°: +17 °C (63 °F)
Precipitation: 76 mm (3,0")
---
Summer holidays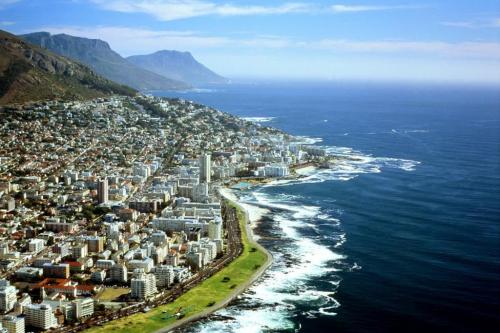 At this time of year accounts for most of the holidays of the countries of South Africa, including:
December, 16 — day of reconciliation;
December, 25 — Christmas day;
December, 26 — day of goodwill;
January, 1 — New year;
Autumn in South Africa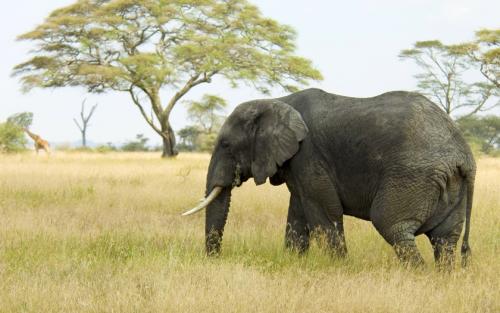 Autumn in South Africa comes in April and lasts long — until mid-may. This is a very interesting and wonderful time of the year. Despite the fact that in the autumn falls very little rain, at night and in the morning almost the entire territory rises a thick fog. The temperature gradually decreases, fluctuations become less significant. For example, in April in South Africa during the day the temperature rises to 23 degrees and at night drops to 12 degrees. In some countries, for example, in Zimbabwe, generally there is no autumn.
The climate of the autumn months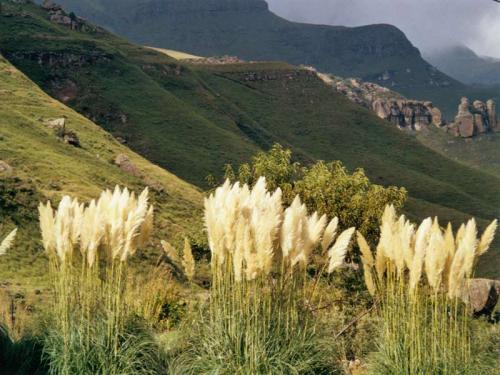 (Pretoria, South African Republic)
March
Max average t°: +27 °C (81 °F)
Min average t°: +16 °C (61 °F)
Precipitation: 79 mm (3,1")
April
Max average t°: +24 °C (75 °F)
Min average t°: +13 °C (55 °F)
Precipitation: 54 mm (2,1")
May
Max average t°: +22 °C (72 °F)
Min average t°: +8 °C (46 °F)
Precipitation: 13 mm (0,5")
---
Autumn holidays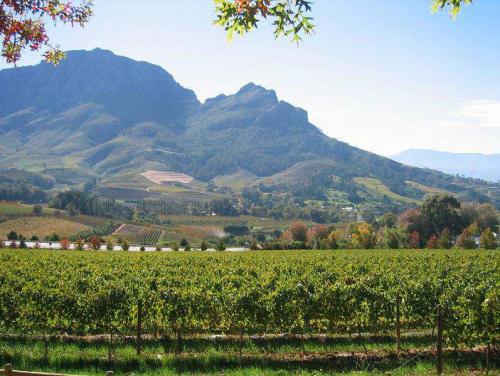 Before you top South African festivals, which are celebrated in the autumn:
March, 21 — the day of protection of consumer rights;
March, 29 — Holy Friday;
March, 31 — Easter.
April, 1 — family day;
April, 6 — founder's day;
April, 27 — independence day;
May, 1 — labour day;
May, 24 — Empire day;
May, 31 — Republic day.
Winter in South Africa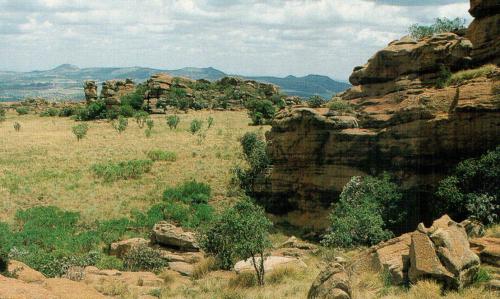 Winter is the most diverse weather seasons in South Africa. Winter starts usually in June and ends in August. On average, the temperature ranges from 10-20 degrees Celsius. On the territory of savannas and plains it seldom rains, but in the mountains quite often you can see the snow. In mountainous areas the temperature can drop below zero. This is not surprising because for most of the regions are characterised by mild frosts.
The climate of the winter months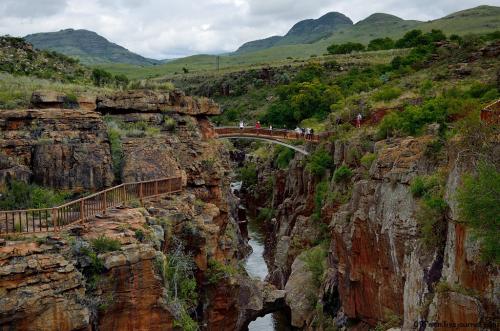 (Pretoria, South African Republic)
June
Max average t°: +19 °C (66 °F)
Min average t°: +5 °C (41 °F)
Precipitation: 7 mm (0,3")
Jule
Max average t°: +20 °C (68 °F)
Min average t°: +5 °C (41 °F)
Precipitation: 3 mm (0,1")
August
Max average t°: +22 °C (72 °F)
Min average t°: +8 °C (46 °F)
Precipitation: 5 mm (0,2")
---
Winter holidays
Before you top South African holidays celebrated in winter:
June, 16 — youth day;
June, 26 — day of struggle for freedom in South Africa;
July, 10 — family day.
August, 9 — national women's day;